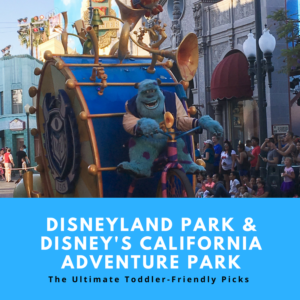 As soon as you have kids you dream about taking them to Disneyland or Disney World.
Right? At least that was my case.
But, When is the best time to go with them? At what age will they enjoy it the most?
Well, the best time is today!
They will enjoy it no matter what because there is always something for every age.  
The tricky part is how to find what is appropriate for your kids' age.
If you go to Disneyland's website you can filter the attractions and rides by age group. But if you have toddlers, like I do, that doesn't help too much.
I filtered by the Preschoolers age group but there were lots of rides that were just too intimidating for a one and three year olds. 
I happened to have a coworker that used to work at Disneyland and, of course, I asked for help.
I picked her brain as much as I could. I made a list of toddler friendly Shows, Attractions and Rides at both parks, Disneyland Park and Disney's California Adventure Park. 
It was a HUGE success!

 
When we got to the parks we grabbed the map, identified our picks and made a route.
It was an awesome way of making the best out of the time we were there. 
So, thinking about all the mommas of toddlers out there, I decided to share my Ultimate Toddler Picks for both parks.
For the Disneyland Park -Ultimate Toddler Picks, Click here.
For the Disney's California Adventure Park – Ultimate Toddler Picks, click here.
If you want some tips about the Do's and Don'ts at the parks just click here.
Thanks for reading and… Your Welcome!